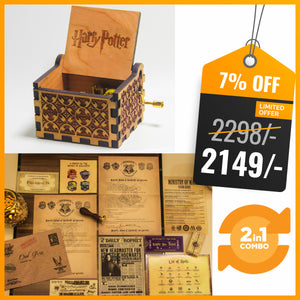 1. Engraved Wooden Music Box – Harry Potter Theme

 Welcome to the wonderful world of crankshaft music boxes! 
Material: 4mm Oak wood (Made in USA)
Finish: Natural oak stain
Tune: Harry Potter - Theme
★ Original Gold Hand Crank Music Box, just turn the handle and it will play this well-known tune.
Try on wood or glass or different surfaces for a new sound. 
★ This music box makes a great gift for any music lover.
★ The design is inspired by vintage storage boxes with the Potter logo engraving on the inside.
2. Personalized Harry Potter Hogwarts Acceptance Letter with Hogwarts School Ministry of Magic Wax Seal Stamp
⚡ From the captivating world of magic and witchcraft
Your ✉️ Personalized Hogwarts Envelope encloses:

★ Hogwarts letter
★ List of Diagon Alley things
★ Platform 9 3/4 Hogwarts Express train ticket
★ Knight Bus Ticket
★ The Houses of Hogwarts booklet
★ Ministry of Magic Floor Guide
★ Mini Daily Prophet
★ List of Spells
★ The Diagon Alley Map
★ Mini Marauder's Map
The envelope is stamped with the famous Hogwarts School Ministry of Magic Wax Seal Stamp & can be personalized with your address.